When considering an all-in-one POS, buyers expect to get more productivity and space maximization out of it, while delivering the same customer experience and fitting it perfectly into the current business environment. There is an increasing demand among retailers and small business owners that all-in-one POS systems need to be comprised entirely of hardware peripherals like thermal receipt printers from the same supplier and offer a wide range of advantages, such as: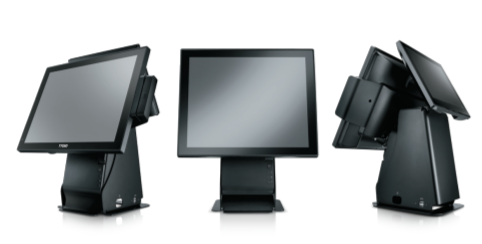 Ergonomics and Convenience
To save valuable working space and limited front counter space, a smaller ergonomic footprint of all-in-one POS is a must design, just like POS functions with a smart configuration and cable management. Specific components vary. But generally, these POS systems can incorporate a touch screen, a thermal receipt printer, and other peripherals like MSR, a magnetic stripe reader, and a customer display.
Ease of Use and Cost Effectiveness
All-in-one systems are well-designed and ensure easy and convenient operation for the front employees. Replacing an all-in-one POS terminal generally costs less than replacing peripherals piece by piece. Peripheral compatibility by a single supplier serves the same purpose and allows future upgrades or adjustments to be initiated with minimal effort and at a lower price.
Minimalist Design & Simplicity
Simplicity, the keynote to all true elegance, is a state or quality of being simple. Something easy to understand and explain is simple, in contrast to something complicated and hard to use. TYSSO AP-5515 showcases one of our best practices of a simple, yet functional design: its patented seamless housing ensures easy maintenance, as the terminal itself is completely screw-less and requires no special tools to open. Less is more! Right?!
Printer Replacement Design Matters
The TYSSO all-in-one POS product line offers two types of printer integration designs:
1. Replaceable printer by a printer of the buyer's choice: like AP-5715, a fanless POS system with the flexibility to integrate thermal receipt printer of buyer's own choice like Epson, Stars, etc. Its aluminum die-casting back cover design offers an effective cooling solution for maximum heat dissipation. Equipped with the latest generation Intel Core processors, it creates a significant performance boost while ensuring a quiet operation.
2. Embedded TYSSO thermal receipt printer: the AP-3515 with its stable base is designed with the idea of a metal base cover and an embedded high-speed thermal receipt printer (PRP-250C). The AP-3515 presents simplicity and space-saving characteristics that create a clean and cable-free environment on the space-limited counter.
By utilizing its low power consumption Bay Trail Celeron J1900 processor and fan-less cooling system, the POS terminal can perform energy-saving and quiet operations during most applications.
Features of Window/Linux All-in-one POS
1. Sleek and stylish product look
2. True-flat projected capacitive multi-touch (PCAP) supported
3. High performance with extremely low power consumption
4. Modular peripherals including high-speed thermal receipt printer
5. Optional secondary display and component integration
6. IP 65/ NEMA 4 protection against dirt, dust, and splashing water
7. Easy maintenance with a unique cabling system (hidden cables in the stand)
All-in-one Android POS Now Available
Equipped with the Android 7.1 operation system, the AP-3115 is the optimal, reliable, cost-effective, and most recommended Android POS solution.
With an extremely low power consumption ARM Cortex-A17 processor, fanless cooling system, and IP65 on the front bezel, the all-in-one Android POS is durable with energy-saving and quiet-operation performance during most applications.
The Wi-Fi module and the optional 4G LTE external antenna rod provide better connectivity, communication, and data synchronization.
Features of TYSSO All-in-one Android POS
1. ARM Quad-core ARM Cortex-A17 32-bit processor
2. High Performance with Extremely Low Power Consumption
3. 15-inch TFT Full-Flat LCD 1024 x 768 resolution
4. True-Flat Projected Capacitive Multi-Touch (PCAP) and True-Flat 5-wire Resistive Touch (RTP) supported
5. Fan-less design with spill and dust resistant front panel (IP65 approved)
6. Rich external devices supported
7. Integrated thermal receipt printer in the tower
8. Communication Wi-Fi and 3G/4G LTE with Mini-SIM slot (option)
9. Android 7.1